Business Grow is a one page theme that displays all the essential features of your website on the home page. It makes easy for the users to get all the required information within a single page.
You just need to create your pages that will automatically appear on the home page. All page names will display in the menu bar on the home page. When users click on the particular menu option, they will get redirected to that particular section on the home page.
No page browsing. No page loading.
Scope of One Page Theme – "One page navigation"
It provides instant navigation to all the pages on your website. Thus, it will give fast response to your users. There is no wastage of time on browsing pages. In fact, users can go through each and every information on your site with just one click. Thus, it makes things flexible for the users.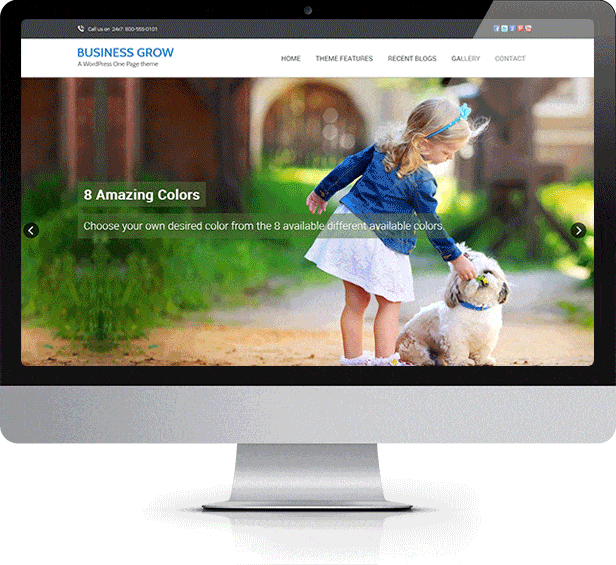 Another interesting part of the theme is that you can create a gallery with some nice and clean effects that will attract most of the users to your website.
Business Grow is integrated with Wookmark plugin that provides the proper alignment to your gallery images, moreover the transition effects are clean and attractive.
Besides, it has got an inbuilt contact form powered by FormGet. This form will not only capture leads on your website, but also helps you to manage all the leads queries easily. Through this, you can do an 2-way communication with your client.
Look into the other various interesting features of Business Grow theme:-
Contact details feature on home page.
Fullwidth moving slider on the home page to show maximum of 8 images. You can also adjust the sliding speed.
Attractive tagline features to grab the attention of users..
Nice navigation menu.
4 Column feature area to showcase your multiple services. You can easily show images of your services that will come with clean effects.
Display your recent blog post on the home page.
Make your gallery on the home page with clean transition effects.
Inbuilt contact form.
8 amazing styling color options.
Widgetized sidebar and footer area.
Various useful social icons.
Completely responsive, compatible with iPhone, iPad, tablets.
Compatible with all latest browsers.