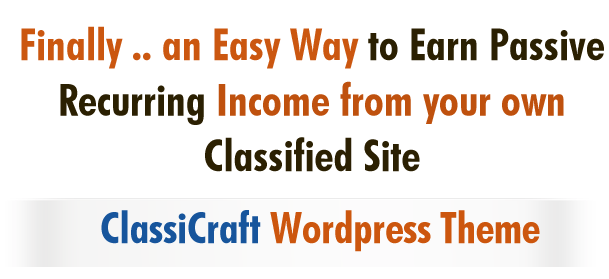 ClassiCraft is a Flexible, Powerful and Reliable Theme to create your own Classified Ads platform, you can now easily create highly profitable classified site with ClassiCraft. ClassiCraft Theme allows the classified ad submission from users. The ClassiCraft Theme comes  with a very simple administration panel to control the entire functionality of the theme.
ClassiCraft is elegantly designed and looks good on normal computer, mobiles or tablets. It is the first fully functional classified theme platform which is completely responsive and allows you to generate revenue for you through Integrated payment module connected via Paypal.
The Theme is extremely easy to manage and submit Classified Ads and you would definitely love to create your Classified Website with ClassiCraft WordPress Theme.
What are Classified Websites ?
Classified Websites helps to promote services, businesses or any new idea between customers.  Internet is going too fast to advertise your business and grab new opportunities. So classified site are very popular among the people who want to market their business and service over internet. So we have created a classified theme that will help you to make classified website and earn a good revenue by placing different classified ads by different people on your website.
How does it Work and what you earn per customer. 
Imagine a website where users can register themselves and post their advertisement. If they pay you $5 per advertisement per month and you have approx 1000 paying customers , You make $5000 every month which keeps on growing with time over a period of year or two. But again it all depends on your niche you have selected. Even you can earn a lot with high paying niche.
How do you collect the payments using classified theme.
ClassiCraft WordPress theme have a perfect solution from which you can collect the payments using Paypal both recurring and single time payment. So when a user click on the pay button it is been redirected to PayPal and amount is directly collect in your Paypal account and there classified ads goes live over the internet. It is a complete automatic process that help you to earn a lot.
How will you get traffic using search engine?
Google or other search engine love when regular data get updated on your website. So when a user adds his classified ad on your website a new data is visible to search engine and hence you will get more and more traffic to your website and user will get new customers. Regular update on your website will help website to get index faster and get a good amount of search traffic on your website.
It is really easy for everyone to earn a good amount using classified theme and business listing owner will get new customers with no effort. With little effort you will get a good amount to traffic to your website.
Why ClassiCraft ?
Extremely Simple to Use
Flexible, Scalable & Reliable
Affordable Price
100% Source Code
Fully Customizable
XHTML/CSS Valid Templates
Lifetime Support
Push Updates Notification
Instant Download
Dedicated Support Team
Active Community
Translation Enabled
Key Features
Fully Responsive Classified Ads Site
One Click Auto Install. Extremely easy to use.
You can setup featured Classified Ad. Can generate revenue for you via Paypal (Complete Integrated System)
You can create free/paid classified ads.
User submission system integrated
Completely integrated Google Maps System with each classified ads on the basis of city.
Recurring Payment based classified advertisements.
Lead capture for individual classified ads directly in WordPress dashboard.
Admin Panel for every Classified Ad submitter
Easy to Add Classified Ad for business owners.
Integrated Commenting system on Ads.
Integrated user rating system.
Responsive Designs (Completely adaptable to smarts phone and other devices)
Multilingual support. Can be easily translated.
WordPress administrator has the ability to set a fixed amount for putting the ad (Pay Per Ad)
WordPress administrator also has the ability to disable pay per Classifieds and enable free Ad.
Ability to select default currency and set appropriate amount of the package.
Ability to set the price on Ads.
Ability to feature Ads on Homepage Slider and Category Slider.
Ability to set the Ad expiry, Ad expires after a set period of time.
Ability for Premium users to collect customer/leads detail in the WordPress dashboard.
Multiple colors Schemes to choose from to suit your business style.
Widgetized area for videos etc.
Custom widgets for showing business listing, Users reviews etc.
Proper Call to action button that will generate sales for you.
Home Page Click to action button for asking business owners to submit their own classified ad.
Business Owners can easily register themselves and submit their classified Ads.
Premium Ads, Popular Ads & Recent Ads are displayed for every category.
Ads can be featured on Homepage Slider or Category Slider.
Complete documentation for ClassiCraft is given in article and learn how to earn passive income using classified theme in more detail.