Create & manage Deal portal in WordPress.
Let your site visitors buy and sell deals at your website
Daily Deal is by far the easiest and cheapest way to create a deals site. It includes everything that a user would need while creating such a site. Let's start a visual tour and see what this theme has in store for you.
Daily Deal Theme Features Tour
The homepage is finalized after many iterations. When it comes to sites like this the deals should be the center of attention- we did just that. The homepage displays how much time is left to grab the deal, product details, sharing buttons and the Buy Now button. Visitors can just click on the "Buy Now" button and buy the deal. An account is automatically created and username and password are sent to the email address. The homepage by default lists only one deal, but if you want, you can also list more deals. To do that just add a new widget to that area.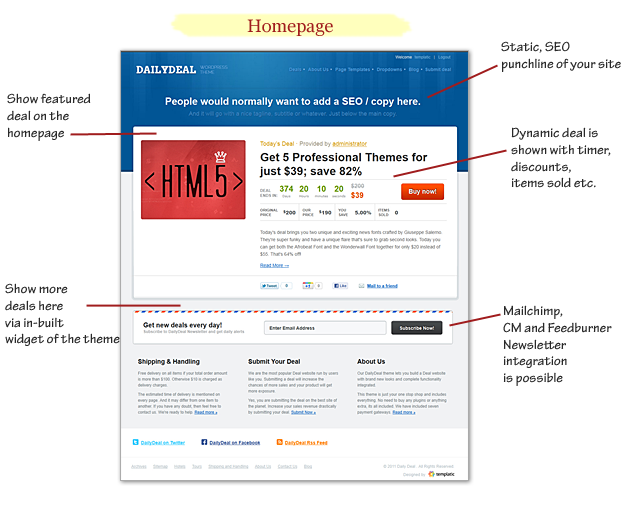 The listing page displays all the deals from that particular category. Three tabs are displayed – All deals, live deals and expired deals. Just like the names suggest, "All deals" will display all created deals, "Live deals" will display active deals and "Expired deals" will display finished, expired deals. Using the sidebar users can search for a particular deal. Below the Search there are regular widgets like Member Dashboard, categories, subscribe, etc. Just like with any (Templatic) WordPress theme – sidebar is all yours to experiment with.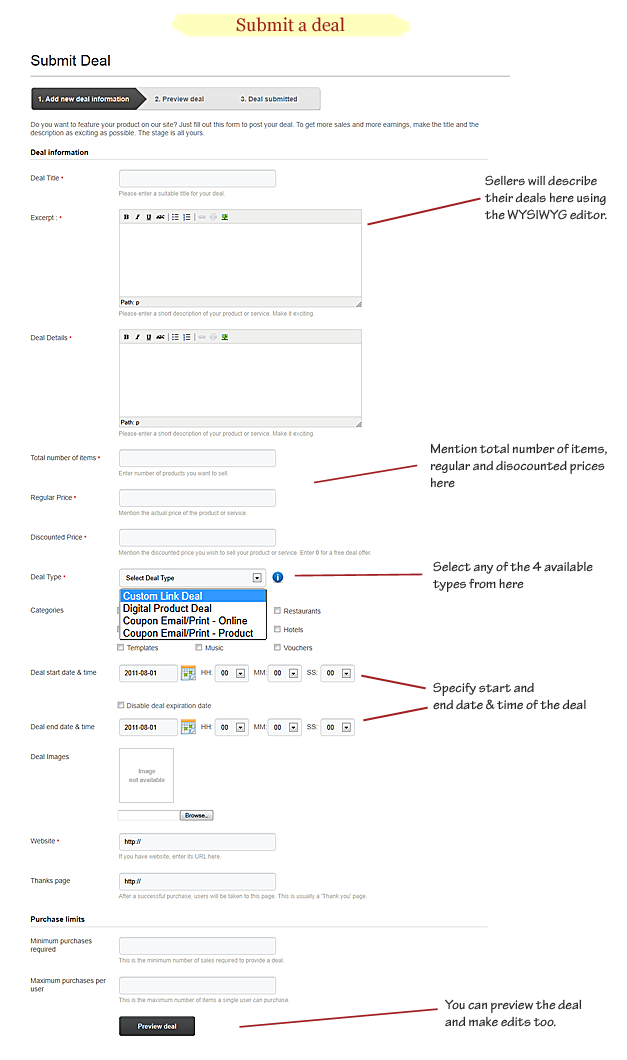 Those who want to submit deals can just click on the "Submit deal" link. A form is provided where users can fill out all the information about the product and submit their proposal for the deal. If the admin finds that deal interesting he can activate the deal and only then it will be visible in the front-end. After submitting the deal an account will be automatically created and login details will be sent to that user's email address.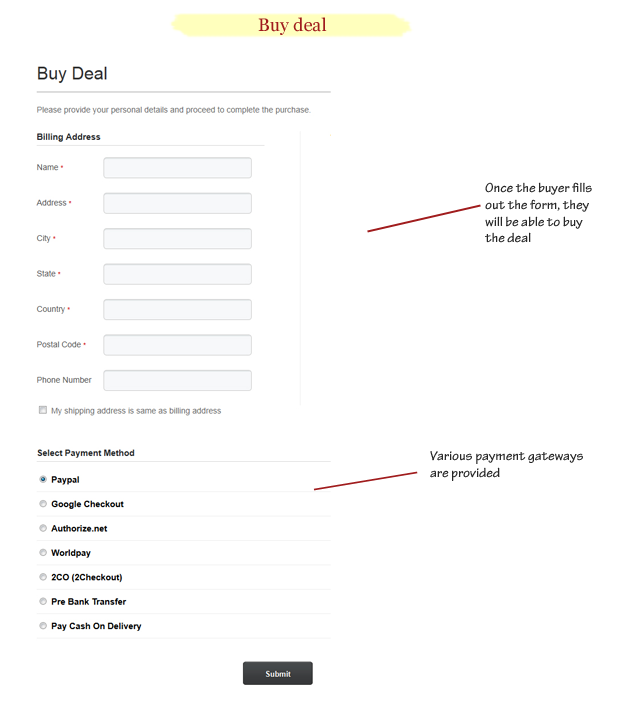 Visitors who like the deal can buy that deal by clicking on the "Buy Now" button. After that, users can sign in or sign up (create a new account). Now they need to fill out the form, provide the shipping and billing address, select the payment gateway and complete the payment procedure. We have tried to make this process as simple as we could.
Affiliate module enables your users to register as affiliates and earn a commission on every sale they provide you. You can specify the percentage in the affiliate options. Managing members and affiliate members is extremely easy.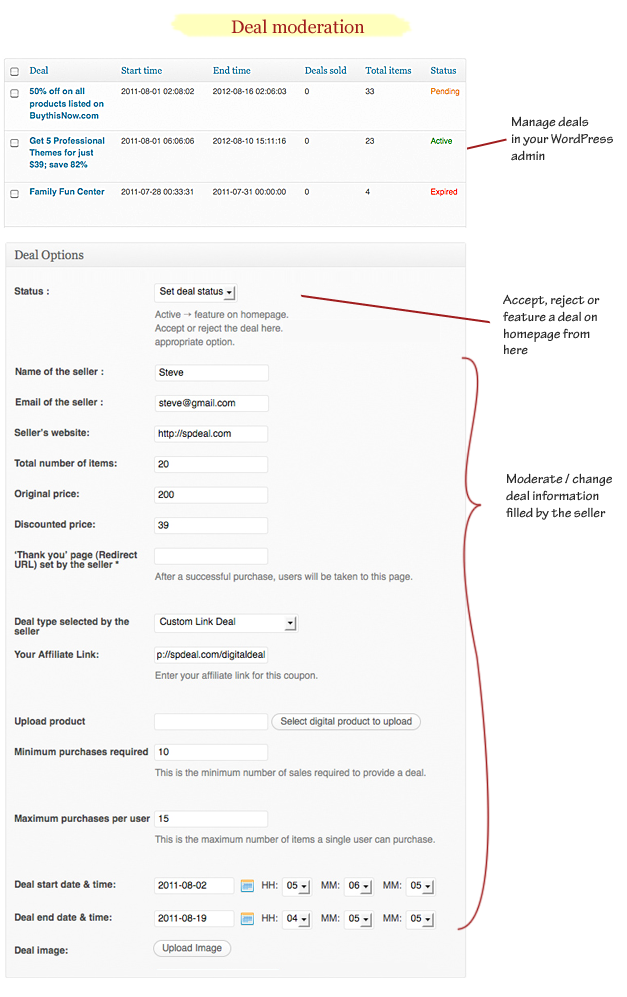 Now coming to the backend part. The backend is feature rich with various advanced options. We covered a lot of areas, we're hoping you'll never need to edit the code. "Design settings" will let you customize the look and feel of your site. "Custom fields" will help you add a new custom field in case you want to add a new input field for the user. And there is the Reports page that displays a complete report for sellers, transactions and deals.
Standard Features for our WordPress Themes

reCAPTCHA enhanced security
Complete moderation of deals
Affiliate module
Different layout options for deal detail pages and submit deal form
Full featured notification emails to buyers, sellers and admins
Transactional reports
Featured deals on homepage + Category-wise deal widget
One Click – Auto install of the theme
Five detailed color schemes
PSD File included with developer license
Multi level drop down menu
Custom page templates
Custom built, dynamic widgets that you can use multiple times.
Standard WordPress Blog & Pages
Gravatar Support & Threaded Comments
Built-in Ad Monetization
Widget Ready with custom widgets
Valid, Cross browser compatible
… and oodles of more features!