Complete directory solution for WordPress
Create, manage and monetize a global website using this advanced directory theme
What is Directory?
Directory is a brand new platform that encompasses a parent theme, various plugins and a wide selection of child themes. It is the most advanced theme we've ever created with literally hundreds of custom features. Use the content below and pages linked at the top to learn more about this behemoth of a system.
So, what can you do with Directory?
Create and manipulate content

Use the back-end to create and control every little thing displaying on the site. Allow visitors to submit content by using front-end submissions forms.

Monetize the site

Charge for content submission using infinitely variable price packages. Setup recurring payments, create coupons, sell event tickets and more.

Manage countries and cities

With over 200 preloaded countries and almost 4000 states Directory makes starting a global directory look easy. Powered by Google Maps!

Extend the functionality

Install optional plugins to enable new features for your website. Add-on selection includes an event manager, a multi rating plugin and lots more.
Content management at its finest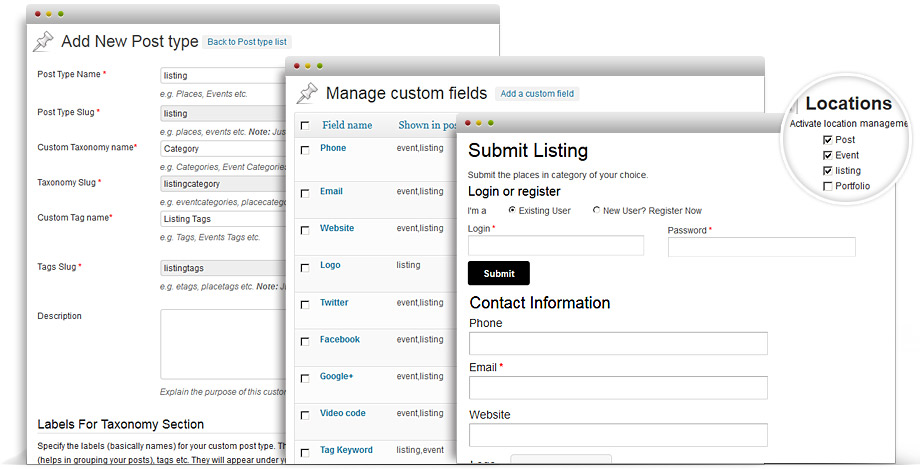 The website you create using this directory theme does not have to rely on just you submitting content. Assuming you allow it, every person that visits your site can also contribute. This is facilitated by customizable register and submission pages. You control every bit of information shown in both forms. Both forms come with a bunch of pre-existing fields allowing you to get started instantly.
One aspect that truly highlights Directory's power is custom post type management. Add your own post type (e.g., Properties) and populate it with content. Allow visitors to do the same!
Make money on your own terms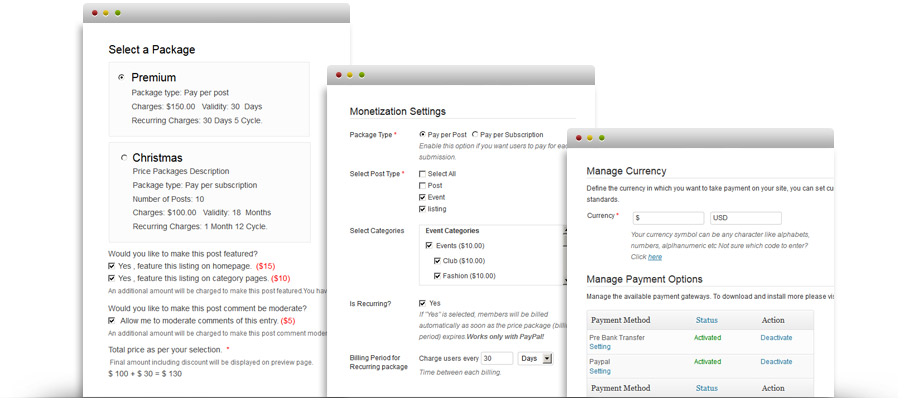 Most websites approach money-making indirectly by focusing on ad revenue. That's all well and good, but it's not what Directory is about. The best way to a steady income is to charge for content submission.
This is made possible using price packages that appear at the bottom of your submission pages. They are essentially payment plans; visitors can choose the one which works best for them. Helping you accept payments are two built-in payment methods: PayPal and PreBank transfer. PayPal comes with support for recurring payments. Dozens more available as optional add-ons.
Go global

Add an unlimited number of cities and manage them all from within a single WordPress install. Using geo-tracking features visitors can be automatically presented with a city that's closest to them. You can also set it up so that the default city opens for each visitor.
Full integration with Google Maps ensures Directory will work virtually everywhere. Cool map features such as marker clustering and Street View are always at your disposal. Maps have been provided for essentially every section of the site; from the homepage to category and detail pages, Google is everywhere 🙂
Although catered to a global audience, Directory theme can still be used for a single location using the built in one-city settings.
What is powering Directory?
As previously mentioned, Directory is powered by a whole suite of plugins and themes. Most important of which isTevolution, the glue that holds everything together. This is our core app plugin and is used to power the most advanced Templatic products. The plugin enables you to generate new post types, manage custom fields, generate submission forms and loads of other stuff.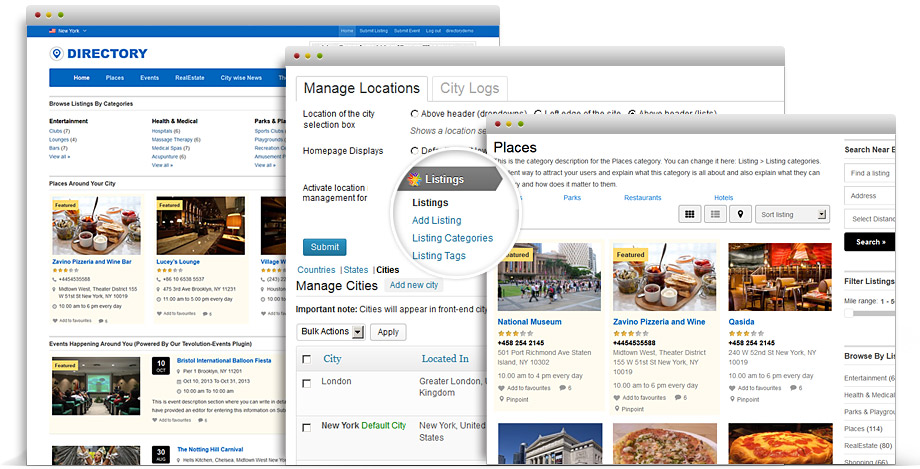 Directory plugin

Adds the "Listing" post type and also multiple widgets for showcasing content on the homepage. Comes with settings for controlling a single city as well as several maps.

Directory theme

It contains most of the design elements necessary to construct the front-end. Also features an entirely responsive design and comes with automatic dashboard updates.

Location Manager

Use it to add cities to your site and create a global directory. Contains 240 countries, 3900 states and 3 cities to help you get started. Customize individual city appearance.