Dzen is a modern WordPress theme made to look awesome on any size of screen.
Dzen is ideal theme for any agency like creative design agency, PR agency, fashion agency, travel agency, as a theme for startup company or well established company, big enterprises or small entrepreneurs. It would also look great for NGO (non-governmental organization) or child themed site. With great collection of elements to choose from and present your product it is ideal theme for any startup company.
Built with the latest technologies like HTML5, CSS3, jQuery, and with SEO in mind it will help you get on top of Google Searches!
Dzen is jammed packed with options! Theme options allow you to change the look and feel of site and great collection of Drag and Drop shortcodes to modify layouts and add various elements. Choose any color scheme you like… Pick out any of +2000 icons…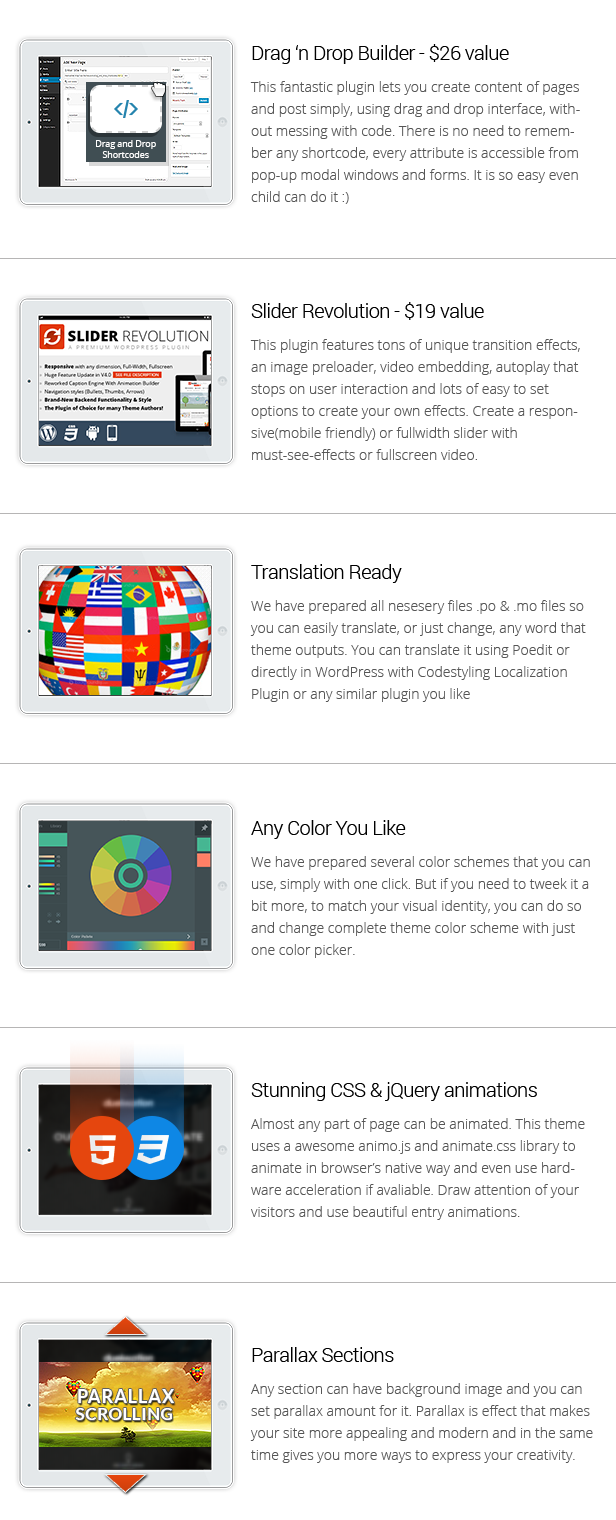 Features
Responsive Design (with unresponsive option)
Revolution Slider ($19 value)
Drag and Drop Shortcodes – WP Visual Page Builder ($20 value)
Timeline Blog
Contact Form 7 support
Touch Enabled Slider
Video Slider
SEO Optimized
HTML5 & CSS3
Crossbrowser Compatible
Documentation
Customer support
Shortcodes / Drag&Drop Elements
Accordions – with sliding animation and plus/minus sign change on expansion or collapse
Alert Boxes – 4 styles – Info, Warning, Error and Success, each with icon and close button; Animated on close
Animation Box – Using the Animation shortcode, you can animate any content, including other shortcodes! With dozens of effects and options your creativity can go wild! Flip 'em, bounce 'em or subtly fade them in; You have the control!
Columns – AB-Shortcodes uses a very clever system when it comes to columns. The whole page is made up out of grid with 12 columns, all you have to do is decide how many columns your content will span. That gives you an ultimate control over your content!
Dividers – visually separate content with dividers. Each can have Go To Top text and/or icon, so when you click it it slides to top of the page
Code – if you need to show source program code here is this shortcode; It highlights syntax and show your code in best way, with line numbers
Pre & Raw – if you like to printout HTML code or some shortcode code you can use this shortcodes, so code is shown and not executed, either in preformatted way or inline
Stats Count Up – show your success in most catchy way! This shortcode will show your statistical data counting up so it will draw visitor attention immediately
Text Styles – from headings, highlighted text, abbreviations and tooltips to dropcaps and date shortcodes, all you need of inline text shortcodes
2000+ Font Icons – Resize them, change their color, rotate them or put them in box – font icons allow you to do all that without loosing quality. Plugin includes more than 2000 font icons, from wide categories range – Business, Communication, Computer & Mobile, Design & Writing, Development, Entertainment, Food, Hosting, Menu, Misc, Multimedia, Sport & Games, Symbols, Time & Location
Map – show Google Maps easily anywhere you like, just place link to map inside shortcode and map is embedded
Member Only Content – hide pieces of content from unregistered user, encourage them to register and provide them with extra value
Spacer – add space of any height in pixels, this shortcode provides you extra control
Table Wrapper – minimal table styling, with hover and/or striped rows
QR Code – give your users option to scan QR code on screen to open page on their mobile device or download your contact data meCard
Progress Bar – animated progress / skill bar counting up to targeted value
Price Boxes – make modern pricing tables, present your pricing packets to customer, and attract them to most desired one with featured option. Each table can have unlimited number of features
Pullquote – small quote or excerpt from content, floated left or right, it draw attention to important thing in content
Blockquote – small quote or excerpt can be used like testimonial or to draw attention to important thing in content
Service Boxes – display your services with icon and small excerpt
Tabs – place tabs any side of content, up down, left or right – tabs come with unique sliding animations
Knob – animated progress / skill knob counting up to targeted value
Team Member – people are you biggest value, don't hide them! Show your team members with modern overlay on mouse hover and social icon linked to team member's social profile or email address
Toggle – hide large chunks of content in simple click toggle so it doesn't affect visual appearance of site, with sliding animation and plus/minus sign change on expansion or collapse
Tooltip – nice tooltips on mouse hover to replace browser's standard ones
Animated List – spice up boring bullet list with entrance animation and icon bullets
Hide Show Content on Devices – if you have content which is not appropriate for mobile or it is best looking on tablet you can easily hide or display it just by wrapping it in this shortcodes
YouTube and Vimeo – easily embed responsive video from YouTube or Vimeo and control all options like autoplay, loop or hiding controls and other elements
PayPal Buttons – easily setup PayPal one time payment or donate button
Force Download Button – allows you to force download instead of opening file in browser
Email Link – printout your email with this shortcode and it will be invisible to spam spiders
Other Shortcodes – sitemap, rss, children pages… there is more…