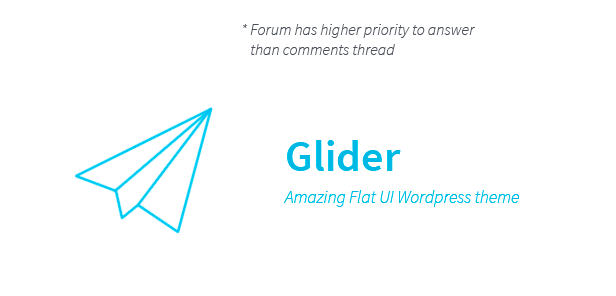 Glider is the best choice for people who want to be successful!
Whether you need a large professional corporate site or a small entertaining blog, or want to create an informative magazine – our multi-functional ultra-modern Glider theme will fit all sites purposes!!! It has super stylish design that is fully responsive.
Its multiple easy to use options and features allow you to build and organize your content the way you want it to be as with our theme you have all needed tools for implementing your creative designing ideas! 7 splendid layouts will not leave anyone indifferent and you can also create your own unique layout with the help of very easy to use admin panel. And if you have any question or run into some problems, our friendly efficient support team is always ready to help!
Choose the quality and style – choose Glider!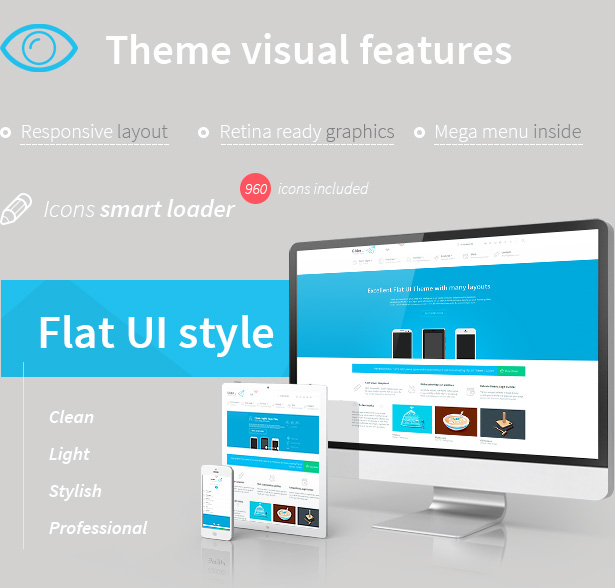 With developing of mobile devices industry it becomes necessary to build sites that will properly look on any screen size. With Glider theme it does not matter what device you use for browsing the site, as it has flexible design so all your content will be displayed perfectly on all screens with different screen resolutions, definitions and orientations. And moreover the theme is Retina ready and it means that your site content will be displayed sharply and clearly even with new developed Retina screens. Mega menu included in our theme is a really tremendous option as it allows you to make clean and modern design with the most functional and comfortable hidden menu that will save your site space for more important content.
It also has 5 icon packs, so you are able to choose the most proper icons for your site widgets and blocks!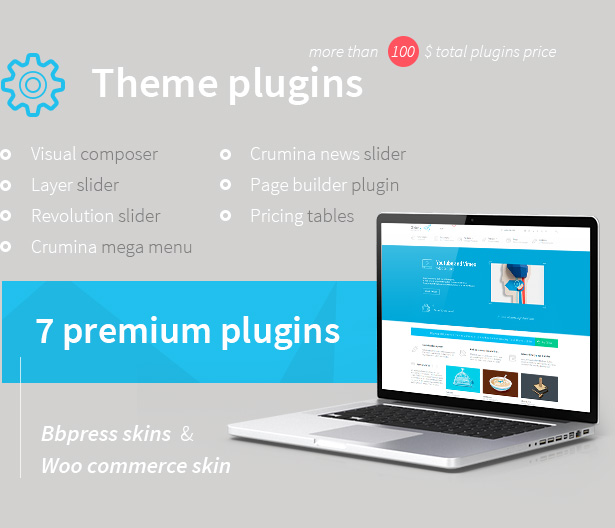 Glider provides you with 7 most useful plugins that will help you in creating your uniques site look. The total cost of included plugins is more than 100$ and with our theme you will get them all for free! Visual Composer, Page Builder, 3 sliders, Mega Menu and Pricing tables serve you for customizing the site's content for your special requirements.
Create stunning design using one of the sliders on your home or any other pages!
Build your unique layouts with the help of Visual Composer or Page Builder or even both at the same time!
Crumina Mega menu is the best way to organize your menu content saving lots of your site's room!
Do a clean and clear price tables for customers with a very easy to use Pricing Tables plugin!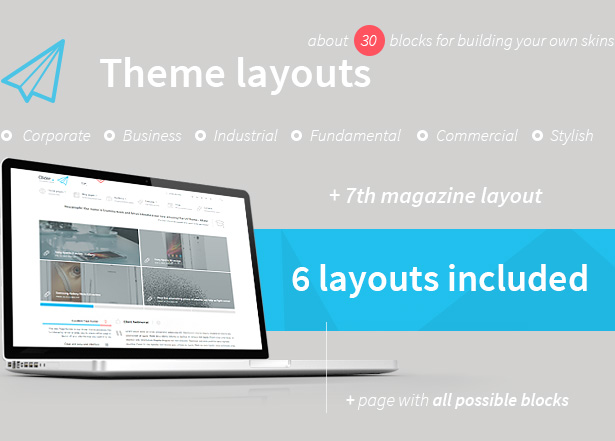 6 stylish ultramodern layouts + Magazine layout will satisfy even the most hard-to-please customer requirements!
You just need to decide which of given layouts mostly fits your site's purposes: corporate, commercial, , magazine or other, and choose it for your site – ready! You can also customize every layout adding your own features or blocks, choosing your own styles for every part of your site!
Multiple theme options are giving you an excellent possibility to create your most beautiful, useful and impressive site design with lots of modern features!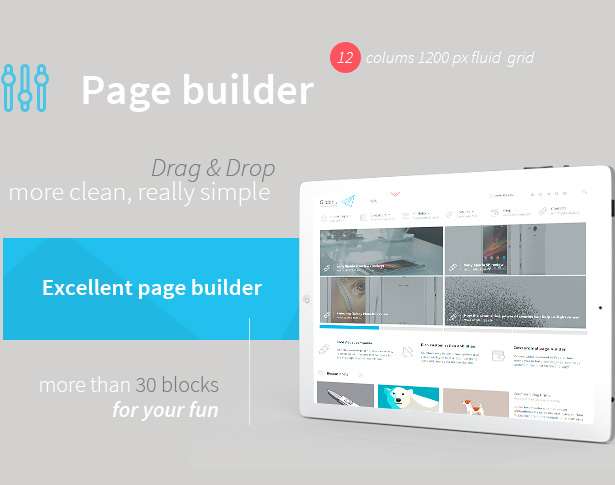 With this awesome plugin it becomes even easier to create and organize your site content. All you need to do is just to drag and drop needed widgets or blocks and you will get your site look the way you want. You can also edit your settings, rearrange the elements order or delete unwanted ones and this is only with a few clicks.
Page Builder allows you to create as many different layouts as you want in the shortest terms. With this powerful tool you can add columns, blocks, sliders, button… whatever you want so to create the most representative, informative and at the same time very stylish and convenient site!