A Knowledge base without the monthly subscription, a wiki without the bloat. KnowHow helps you setup a Knowledge Base in WordPress in less time than it takes to brew a coffee.
It's perfect for providing a support resource for your customers and is super easy to manage.
Theme Highlights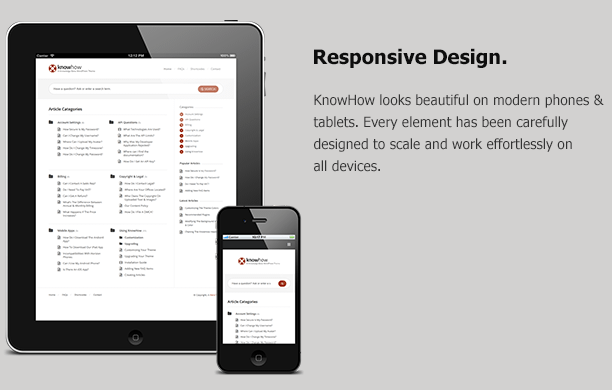 FAQ PAGE
Need a one page FAQ section to point your users to? We've got you covered.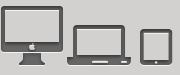 CHANGE THEME COLOR IN A CLICK
Change the theme color in a click. Couldn't be simpler!


Theme Details
Responsive Design
Choose Your Own Theme Colour (via Colour Picker)
Video Post Format Support (YouTube, Vimeo Embed & Self Hosted)
Simple Unbranded Theme Options
Multilevel Animated Navigation
2 Custom Widgets (Latest Articles & Popular Articles)
Shortcode (Flexible Columns, Buttons, Alerts, Toggles,Tabs & Accordions) – Plus add shortcodes directly from the editor
Great SEO Built-In
Ready for translation (.po / .mo files included)
Great Support From An Elite Author
Well Documented
HTML5 & CSS3
Testimonials From Buyers
 I just wanted to say thanks for your excellent themes. We tried multiple themes on our WordPress site, but none of them were even close to offering the clean design and sleek functionality your theme provided. In addition to being absolutely beautiful and very user friendly – setting up and tweaking theme elements has been incredibly easy. Thanks for providing a low cost premium solution! – Justin B. ( http://www.einsteinsurance.com )
 Best theme I ever worked with. Very flexible for customization, clean code, beautiful mobile integration Seems like developer is very knowledgeble in WordPress and theme integration. Keep up the good work. – alby1481
First, let me say that this is probably the best responsive theme that I have used thus far. The quality of it's construction AND the responsiveness of it's author is unparalleled. I'll make a point of checking every new release from this author. – davshirley
 This is my very first experience in working with any web development, wordpress, templates, etc. So, I am not sure about how other developers work, but your customer service is absolutely fantastic. You get back to me right away, every time. Your replies are thorough and easy to understand, and you consistently go beyond what the expectation would be, answering questions that you probably dont even need to answer. Your help on this project has saved me tons of time that I would have had to spend trying to figure things out on my own. – Michael Messina
 Thanks again! Your support is really responsive and "top notch". – Robert Ramos
 Great job. Very good markup, clean code, very well thought, this is the best theme I've bought so far on themeforest. – durff
Update Log

 

v.1.1.3
- Added option to turn live search off
- Fixed bug when live searching with a space at the begining
- Now WMPL compatible
- Breadcrumbs enchanced
- Ready for WP 3.6 video support
- Various bug fixes and enhancements
v.1.1.2
- Bug fixes
- Twitter widget now retired
- Updated documentation
- Base child theme included
1.1.1
- Various bug fixes and enhancements
1.1.0
- All icons & images are now high resolution & retina ready
- Various bug fixes and enhancements
1.0.9
- Various bug fixes and enhancements
1.0.8
- Video Post Format fixed, now using http://wordpress.org/extend/plugins/media-element-html5-video-and-audio-player/ for better browser and video format compatibility
- FAQ slug can be modified in the theme options
- Various bug fixes and enhancements
1.0.7
- Various bug fixes and enhancements
1.0.6
- New leaner video post format player (Supports more video formats)
- FAQ items are now arranged my order
- New improved breadcrumbs
- Improved responsive CSS
- FAQ page is no longer required, and permalink can now be customized
- Added new range of homepage options to control display categories, sub categories and posts.
- Custom Category Widget depreciated, default widget is now styled instead
- 404 sidebar bug fixed
- Various bug fixes and enhancements
v1.0.5
- Various bug fixes and enhancements
v1.0.4
- Various bug fixes and enhancements
v1.0.3
- Tag display improved
- Improved homepage display of subcategories
- Improve category display
- Smoother responsiveness
- Various other bug fixes and enhancements
v1.0.2
- Fixed nesting of categories
- Added subcategory display on category pages
- Other small enhancements
v1.0.1
- Fixed live search for FAQ items.
- Added support for sub-categories on the homepage
- Added option to change the amount of posts shown under each category on the homepage
- Added option to change which posts show under the category (recent/popular/random etc)
- Added sidebar options for the homepage (off, left,right).
- Added page template for sidebar left and full width pages.
- Fixed some translation issues
v1.0.0 
- Theme Release