Lemon is a portfolio oriented, high contrast WordPress Theme designed in a clean and minimalistic style. It has a responsive layout that looks great on mobile and tablet devices. The main point of focus is represented by home page slider which scales down automatically depending on the screen resolution.
The Theme comes loaded with 5 different home page layout examples and more than 20 different page layouts. It's super easy to build any page with build-in shortcode manager and 40+ shortcodes to choose from.
The Theme contains blog with different post types represented by different icons, blog comments, gallery and portfolio pages, two different contact pages with expandable map of location and working contact form, unlimited number of sidebars, shortcode manager, an extensive collection of shortcodes including FAQ, lists, tabs and accordions, carousels, testimonials, features lists, notification bars, different sidebar widgets and a lot more.
The Theme contains 3 different sliders: CarouFred Carousel, Flex Slider 2 and Nivo Slider. Each and every available website component is 100% responsive and adapts perfectly for any mobile device.
Responsive Layout
Lemon is fully responsive. Each and every page element is 100% responsive and adapts perfectly for any mobile device. Responsive mode can be disabled in Theme Options Panel.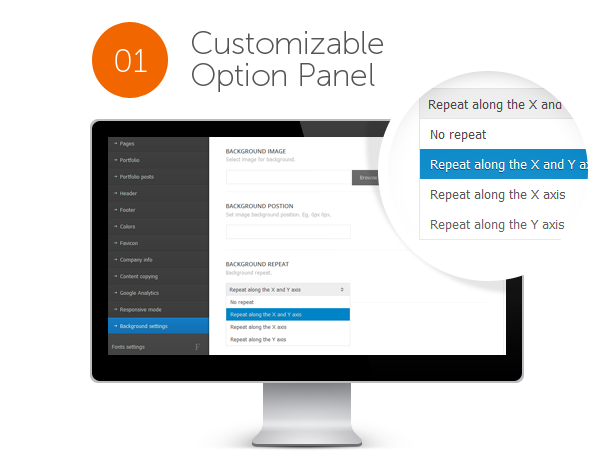 Customizable Theme Options Panel allows to easily manage the entire Theme.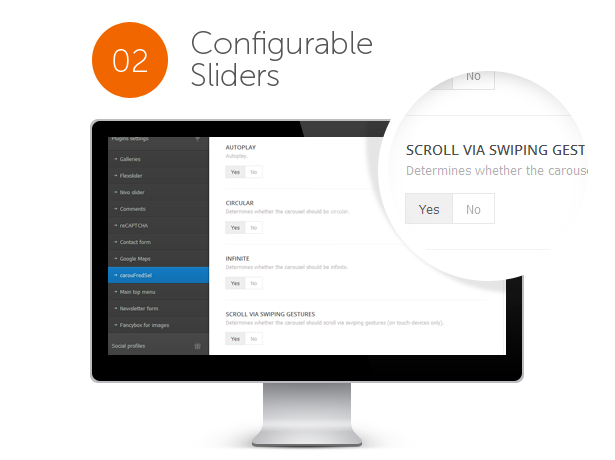 Easily choose from one of three available sliders: CarouFred Carousel, Flex Slider 2 or Nivo Slider. All integrated into Lemon Theme with numerous options to configure and 100% responsive.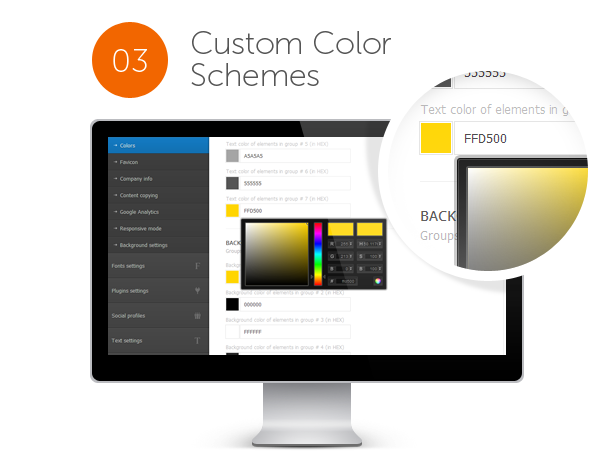 With Custom Color Schemes you can adjust the color of virtually every website element with ease.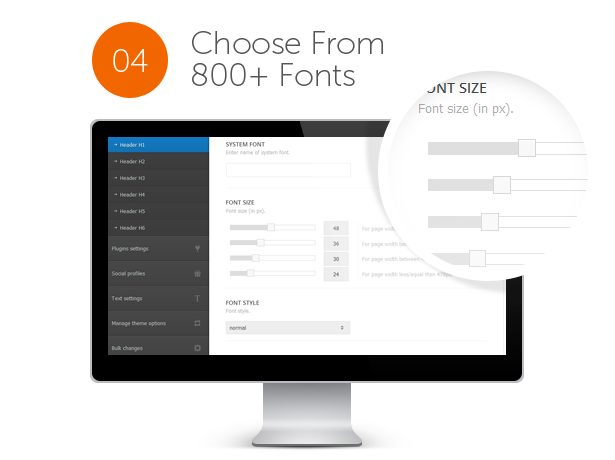 Choose from an extensive library of over 800 available fonts and their variants. Set-up your base and headlines fonts. Apply different settings for different screen sizes.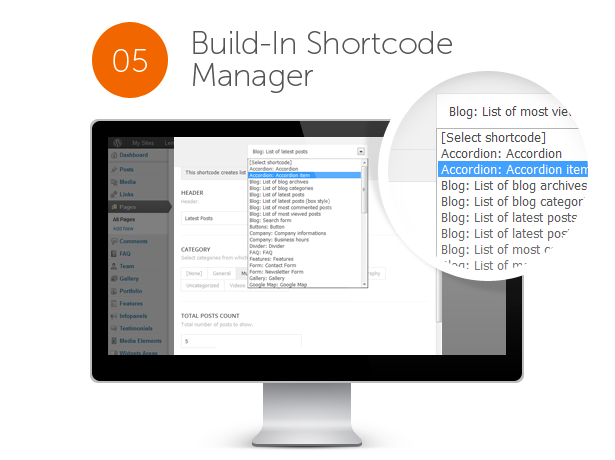 Create and manage shortcodes directly in post content with Build-in Shortcode Manager. Click on shortcode manager button in post editor, a pop-up window will appear with a list of 40+ available shortcodes. Select a shortcode, enter your settings and save. Selected and customized shortcode will appear in your post! You can even edit existing shortcode snippets. Just select inserted shortcode and click on shortcode manager button.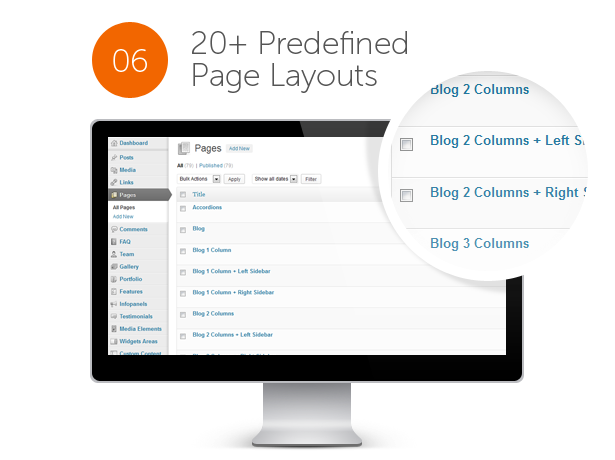 The Theme comes with 20+ predefined page layouts including different home page layouts, different blog layouts, different gallery and portfolio layouts, contact page and more.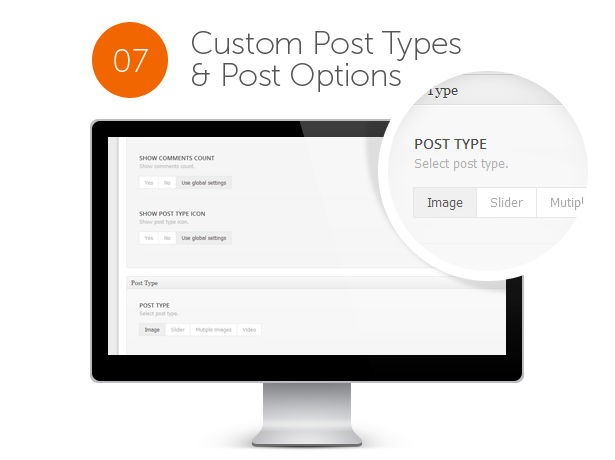 Customize your content like blog posts or portfolio items with different post types: image, slider, multiple images, video and several post options like custom header menu, custom sidebars, post details visibility settings.
Add custom attributes to your portfolio item. Enter your attribute name and value, choose the visibility and feature icon from library of 80 icons available.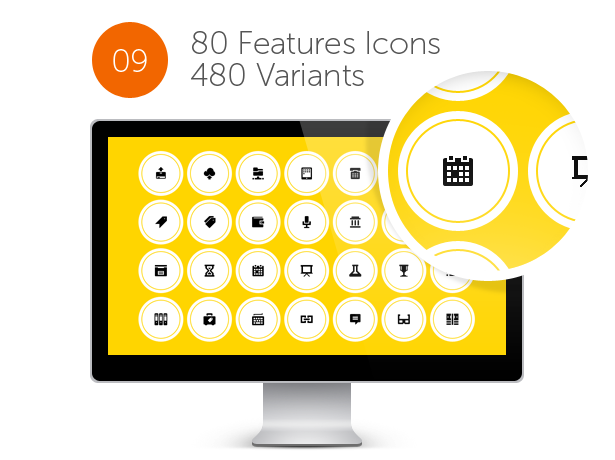 The Theme comes with 80 Features Icons in 3 different sizes and 2 colors which gives 480 variants to choose from and 27 Social Icons in 2 different colors with over 50 variants.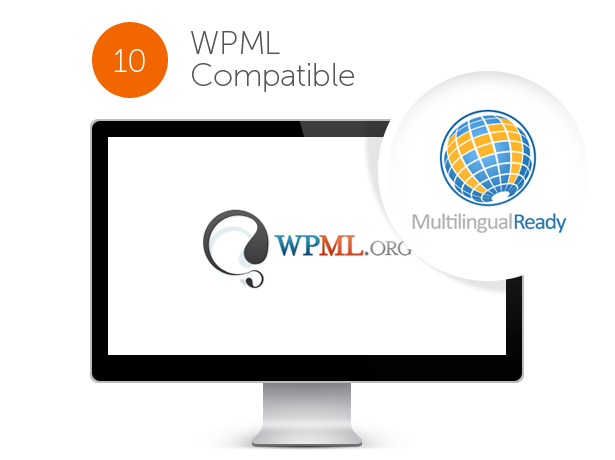 We offer 100% free after sales support. Once you purchase you can use our Support Forum backed by professionals who are available to help our customers.
Theme Features
Responsive Design
jQuery Powered
Build-in Shortcode Manager With 40+ Shortcodes To Choose From
Extensive Admin Panel With Theme Options
General Website Settings

Blog Settings Including Category, Archive And Search Pages Plus Sorting Options
Posts Settings Including Excerpt Options And Post Details Visibility Settings
Different Post Type Icons
Portfolio Settings
Ability To Set Up a Custom Logo
Header Logo Positioning
Footer Content Editor
Theme Colors Settings
Favicon Uploader
Company Info Form
Content Copying Options
Google Analytics
Responsive Mode Settings
Website Background Including Background Image, Position And Repeat Settings

Font Settings

Base Font Settings
Headlines Font Settings
800+ Google Fonts To Choose From
Different Settings For Different Screen Sizes

Plugin Settings

Flex Slider 2 Configurator
Nivo Slider Configurator
CarouFred Carousel Configurator
Header Menu And Submenu Configurator
reCAPTCHA Settings Both For Blog Comments And Contact Form
Contact Form Configurator
Newsletter Configurator
Image Fancybox Settings

Social Profiles Set-Up

Support For 25+ Social Media
Including Different Social Media Icons

Theme Options Import / Export Settings
Bulk Changes

Global Changes For Pages
Global Changes For Posts
Global Changes For Portfolio

Build-in Translator With Ability To Translate Different Website Phrases
Build-In Color Picker To Customize Theme Colors
Unlimited Number Of Sidebars
Support For Videos
Working Ajax Contact Form
Working Newsletter
Map Of Location With Configurator
20+ Page Layouts
5 Homepage Layouts
80 Features Icons (In 3 Different Sizes and 2 Colors = 480 Variants)
27 Social Icons (In 2 Different Colors = 50+ Variants)
Latest Tweets Carousel
Valid HTML5 Code
Crossbrowser Compatible
Clean Design
Documentation Included