Overview
Meris is a new free theme for WordPress. Following the trend of web design, Meris adopts responsive layout. This clean theme is developed using Bootstrap 3, which makes the theme works well with desktops, smartphones, and tablets. The dedicated design, awesome widgets, the full-screen sliders, portfolios, etc. give you the premium look and feel.
Meris allows you to customize your site very easily. By adding widgets to the homepage, you can add various contents there, for example, slogan, portfolios, services and more. Post layout is also flexible, you can select right-sidebar, left-sidebar, or sidebar on the both sides. What needs to be mentioned is that, Meris theme supports sliders in the sidebar! This is a perfect theme for business, travel, food, sports, portfolios and other niches. Furthermore, you can also try the pro version to get a better experience.
Key features
Fully Responsive design
Custom widgets in homepage
Full-screen sliders
Fantastic portfolio
Slider show in sidebar
Metabox options
Flexibility
Translation Ready
Developed with Bootstrap 3
Built with HTML5+CSS3
Upload logo and fivacon
Various social icons
Fully Responsive Design
Responsive design is pretty important nowadays when various devices are out there. Meris theme for WordPress is fully responsive in all browsers such as Google Chrome, Firefox, IE, etc. and works perfect on mobile devices incuding smartphones, tablet pcs, and so on. The layout can adapt to the screen size of different devices.
Custom Widgets in Homepage
Meris allows adding custom widgets to the homepage, which means, you can add different contents such as portfolio, services, slogan, etc. to the homepage. The lite version includes 4 custom widgets while the pro version includes 6. This feature can help you create a professional homepage within several simple steps instead of doing lots of complex coding works.
Full-screen Sliders
Full screen slider is embedded in the homepage. The stunning sliders will make your most important content stand out. Compelling sliders can attract your visitors when they first come to your website. And here, Meris can help you make it true.
Fantastic Portfolio
A fantastic portfolio area can be added to the homepage in Meris. You are allowed to add portfolios there to link to your featured product pages. Portfolio is another important means to showcase your products in the homepage. Meris allows you to add portfolios as per your needs, one row, two rows or more are allowed.
Slider Show in Sidebar
Different from the large sliders in the home page, the sliders in the sidebar can appear next to all your posts or pages(you can choose that). A small slider show can add large exposure to your features products or something else.
Metabox Options
Metabox options give you the power to customize the main layout of the pages and posts. You can add sidebar on the right side, on the left side or on the both side. In addition, you can set different sidebars: page left sidebar, page right sidebar, post left sidebar and post right sidebar. To make you website stylish, Meris gives you more power.
One-click to Change Global Color
Meris supports to changing global color via one simple click, the color picker helps you to find the color you prefer easily.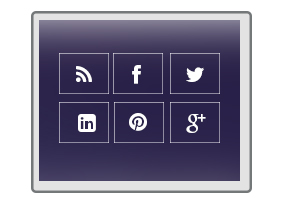 Various Social Icons
Meris supports wide range of widgets and multiple social icons, such as Facebook, Twitter, Google+, YouTube and many more. You can add SNS links in the foot area of the whole site or the sidebar for the blog.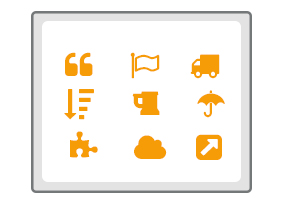 Font Awesome Icons
Font awesome icons are available in Meris, you can easily find various font icons and use them at "Service" widget or any other page in your site without making, uploading yourself. Furthermore, you can customize the size, color of the icons.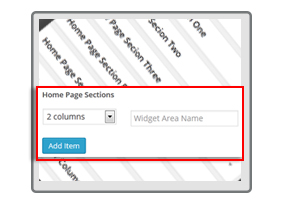 Unlimited Widgets Areas
Meris allows you to add unlimited sections to the homepage. You can also divide the sections you added into columns and each is a widget area which you can add widgets as you like (*Pro version only).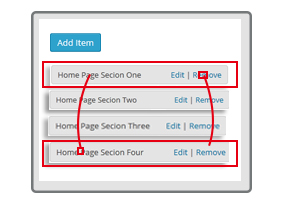 Drag & Drop Section Controller
Meris not only allows you to add sections but also allows you to sort the section order by simply drag & drop with the fantastic control panel (*Pro version only).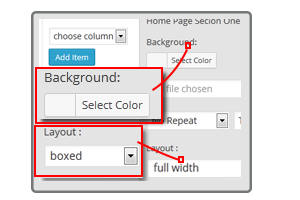 A Number of Options for Each Section
You can set layout(boxed or full-width), background color and upload background image for every sections you added (*Pro version only).
Robust Built-in Slider Plugin
Meris offers a powerful built-in Slider Plugin – Revolution Slider. The plugin can form slider shortcode automatically, that can be inserted into Posts, Pages, Home sections, and Portfolios, just like all other shortcodes, $19 value included with the theme (*Pro version only).
Well-coded
Meris free WordPress theme is developed using bootstrap 3 frontend framework and HTML5+CSS3 web language, which makes the theme fully responsive and optimized for all devices. Thanks to the clean structure and codebase, this theme is SEO friendly.
Flexibility
Meris is an easy-to-customize WordPress theme. In the homepage, you can add sections, change section colors and layout(full-width or boxed) to customize a homepage as per your needs. As for the pages and posts, you can choose different layouts as well. In addition, you can upload logo and fivacon, change the header image, header text colors, etc.
Translation ready
This theme is translation ready. It supports different languages. You can create a website with this theme in your language.