The Opulus Sombre Theme is a robust WordPress Theme built on our extensive Nimbus framework. The versatile, modern layout and dark color palette works perfectly for design agencies, photography portfolios, architects, or any business that prizes modern, classy design.
This dark version of the Opulus WordPress Theme came about in response to the many requests we had from our members. We are excited to see the wonderful applications we expect to emerge a result of this WordPress theme release.
The Opulus Sombre theme's built-in responsive layout means your website will look amazing on browsers of all sizes, from the smallest mobile phone to the largest desktop browsers. You will also have access to an easy-to-use set of responsive shortcodes that will allow you to target just the right content for each visitor depending on they size of their viewing window.
Use our proprietary Nimbus Panel to customize virtually every aspect of your website! Choose from hundreds of font choices, countless color options, and versatile page layouts.
CUSTOMIZABLE THEME OPTIONS
The Nimbus theme options panel provides limitless opportunities to customize your website. Choose from hundreds of fonts, unlimited color variations, and multiple page layouts to create YOUR perfect website.
FULLY RESPONSIVE LAYOUT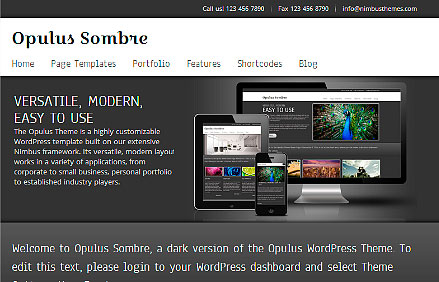 The Opulus Sombre Theme was meticulously crafted to provide the very best experience to both mobile and desktop users using our responsive design layouts. To see it in action, simply re-size your browser and see how the theme adapts to your window size!
Additional Features
Hundreds of Shortcodes
Style your website with custom buttons, images, lists, typography, tables, columns, and more… all brought to you by our vast library of shortcodes.

Alternate Portfolio Layouts
To truly showcase your work in style, choose from one of our five gorgeous portfolio layout options. Preview just some of your options:
Multiple Home Page and Slideshows
Create your website's front page by choosing from dozens of home page layout options, including dynamic slideshows, static images, featured posts, widgets, and blog feeds. So many options means you're never stuck with a generic site!
Endless Font Choices
Typography sets the tone of a website, and with the Opulus Theme you can incorporate any number of fonts from our massive, hand-selected collection. Choose different fonts for buttons, shortcodes, headers, footers, and more!
Standard Features in ALL our Themes

Emphasis on Exceptional Design
Every stunning design is worked and reworked until it meets our rigorous standards. We are committed to never producing a theme we wouldn't be proud to use ourselves.

New Themes and Regular Updates
As Nimbus Themes continues to grow, your membership allows you to download all our new themes as they're available. You can also access updates to our existing themes.

Easy to Use Options Panel
All Nimbus WordPress themes are built on the Nimbus Framework, which includes our intuitive Options Panel, filled with ways to customize your website.

Relentlessly Friendly User Support
If you've got questions, we've got answers. It's our commitment to you that we'll provide the most positive support we possibly can!

Browser Compatibility
All themes are browser tested on all modern browsers. Features degrade gracefully to maintain the feel and integrity of your website.

SEO-Optimized Themes
We keep your SEO needs in mind when building our themes. We include powerful SEO tools that give you maximum control.