Packed with tonnes of features and options. Create a real estate portal in minutes!
Real Estate 2 is a unique take on the niche real estate market with focus on awesome back-end features while also providing clean looks and great usability. Create a real estate directory portal easily with this WordPress Real Estate theme. You won't find another one like this, we guarantee it! If you want to read some more about this theme visit our release blog post
Real Estate WordPress Theme Features Tour
Real Estate Home Page
The homepage lists a dynamically generated slideshow of featured properties submitted by the users. The multi-category search is one of it's kind where users can select multiple criteria and search properties as per their requirement. Multiple widget ready areas let you add any widget of your choice in the sidebar, big footer or at the page middle area.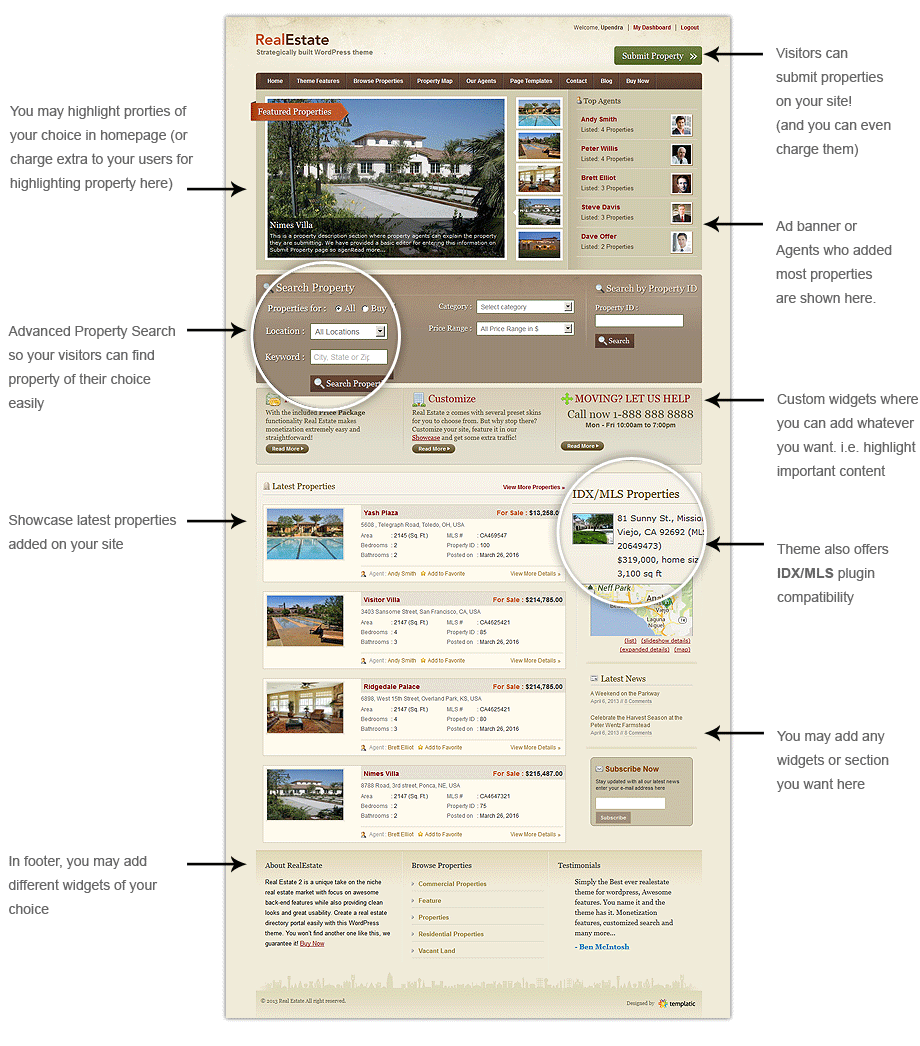 Property listing page
Listings in property listing pages are displayed in similar fashion as items on the homepage. This enables your visitors to easily add listings as favorites and access them in their user dashboard later on. Since Real Estate 2 comes with a special widget area for listing pages, customization is a breeze – you just drag the desired widget into the appropriate widget area.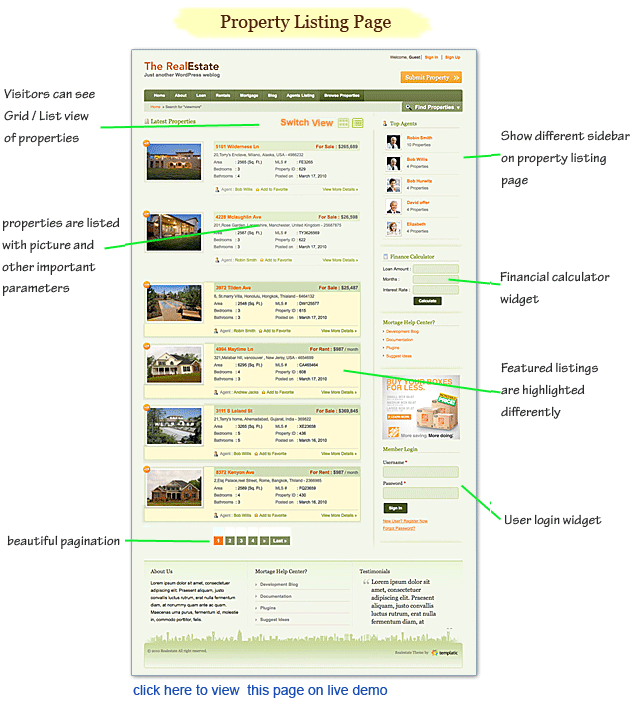 Property detail Page
The property detail page is where users can see the actual property in all it's glory. The person who's listing the property may add as many photos as he/she wishes and those photos will be auto magically displayed in a photo gallery slideshow. The rest of the details are displayed elegantly and in strategic manner on this advanced real estate WordPress theme. The agent details are displayed a bit lower with the full contact details and appropriate links so the visitor can get all info about the property being sold, seller and may contact them by filling out a simple form. The email will be sent directly to the person who listed the property.
Google map is automatically generated and displayed on the page based on the property address the user enters while submitting a property. Admin may choose the list similar/related properties at the end of the page based on the criteria of his choice.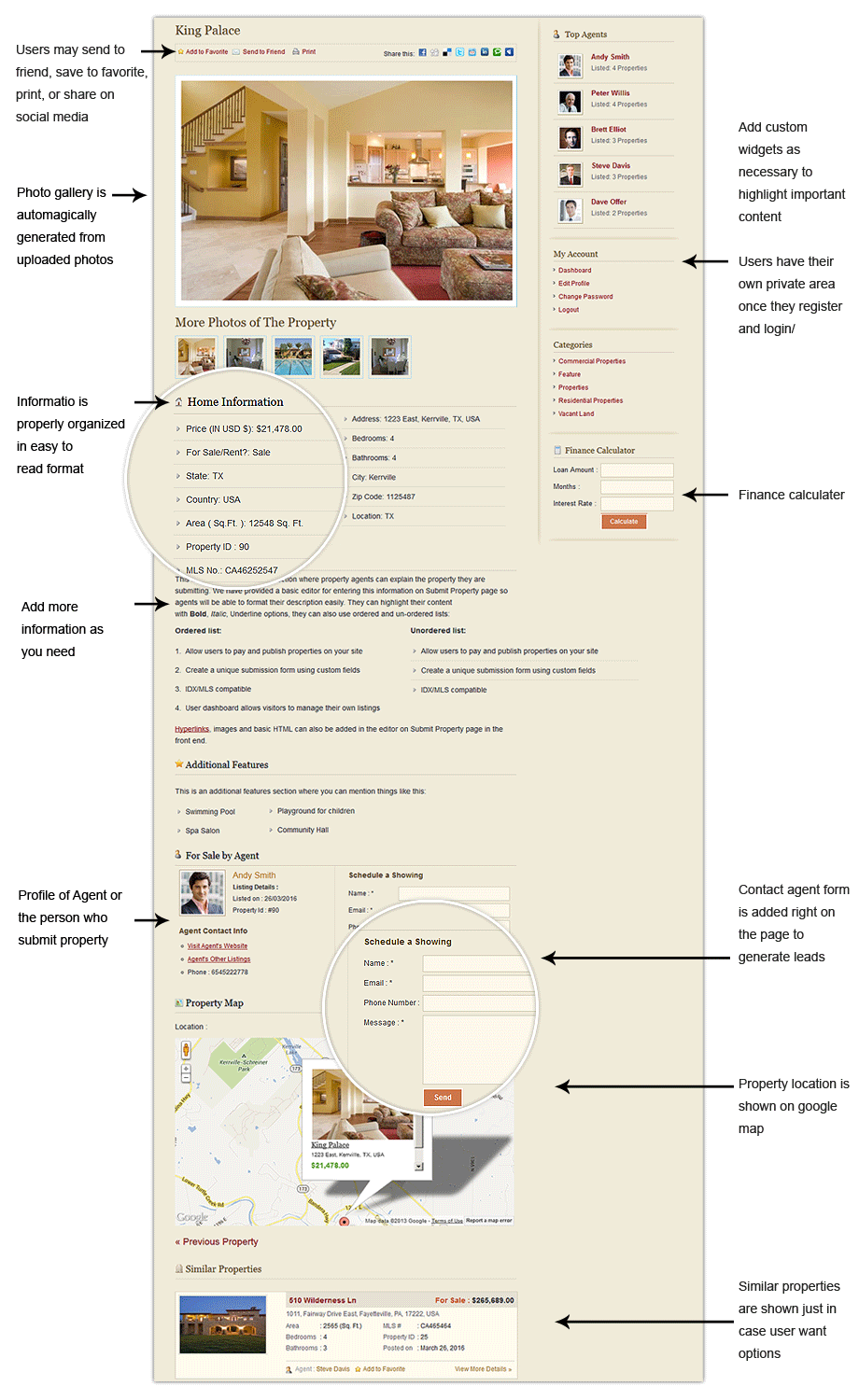 Customizable submit property form
The submit property page enables anyone to submit content on your site, all without even visiting the Dashboard. All registered users can submit listings, they can even register by submitting a listing. Plus, the whole new image upload feature lets you select and upload unlimited images that you can sort order once the property is submitted. Not only this, our advanced Real Estate WordPress theme will also resize and arrange it in dynamic photo gallery slideshow in the property details page.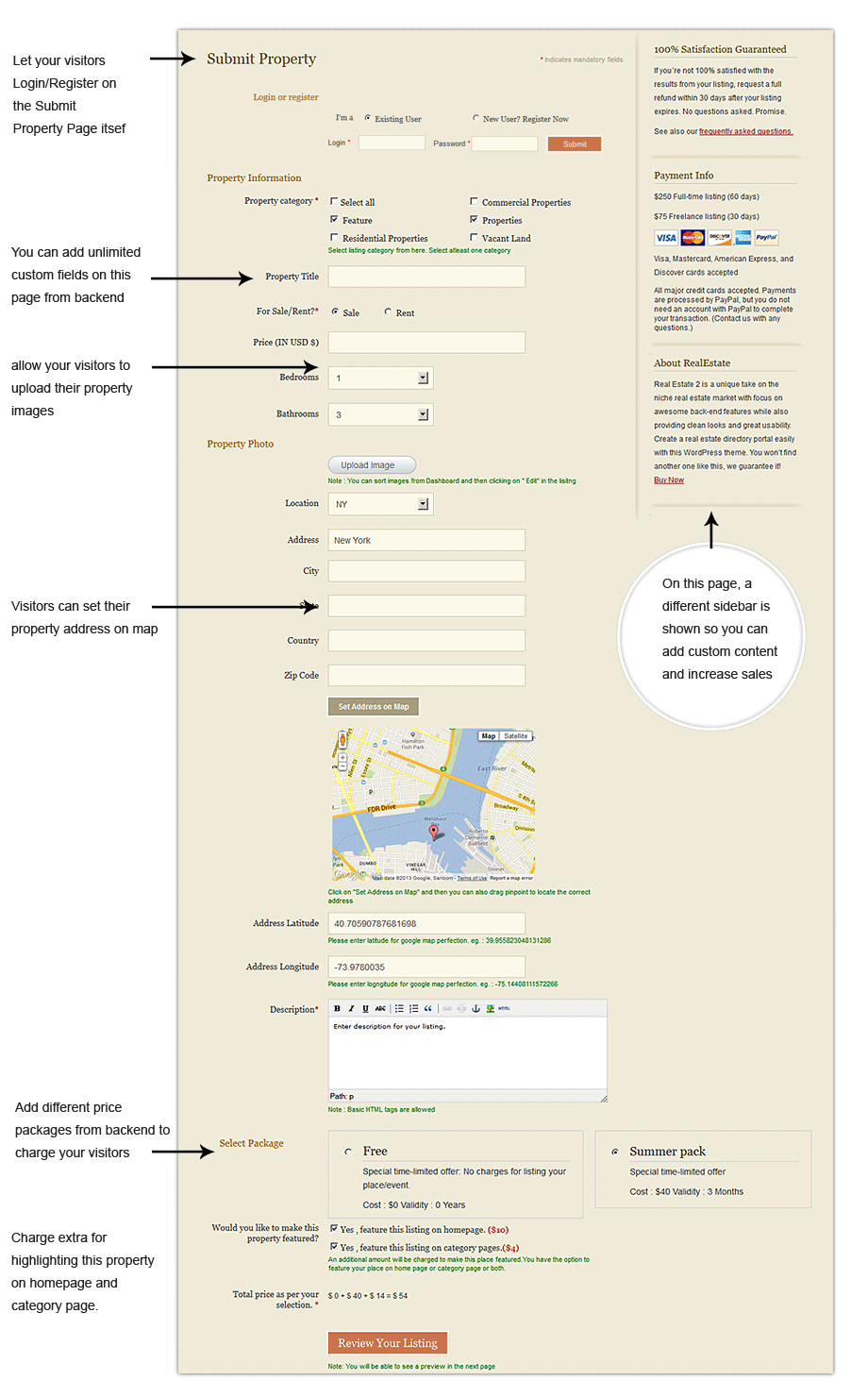 Customize your submit property form with advanced custom fields
With custom fields you are provided with the tools to easily add new fields into the property submission form mentioned earlier. To make the deal even sweeter, all existing fields are listed in the custom fields section enabling you to effortlessly edit or disable them. Since custom fields are directly tied to the search form on your homepage adding fields to that search form is also a piece of cake. For more on custom fields in our real estate WordPress theme be sure to watch the overview video below.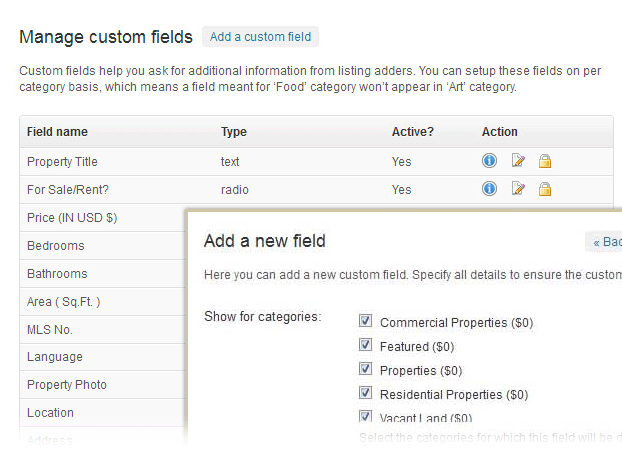 Charge your users for submitting properties using price packages
Price packages in this premium Real Estate WordPress theme provide you with tools to create the ultimate payment plans for your visitors. Want to create category-specific price package? You can do it with Real Estate 2! Not only that, the theme also allows for creating of recurring packages for users checking out with PayPal.
Other Real Estate 2 features
IDX/MLS compatible (enabled by dsIDXpress)
Custom user profile fields
Several built-in payment gateways
Bulk Upload/Export (.csv files)
Coupon module
Manage Transaction Reports
Map view of all the properties
Display a list of agents