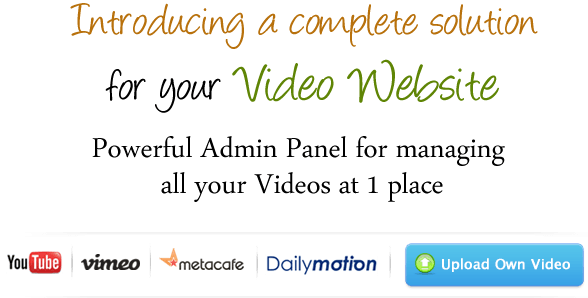 VideoCraft is not just your regular Video Theme, Using VideoCraft you can run a full-blown user generated Video Site.
VideoCraft Theme comes with a complete User Registration Module and Video Upload Module which allows Users to upload their own video files and also allows to easily embed the Video through URL's from sites like Youtube, Vimeo, MetaCafe or Dailymotion.
VideoCraft Theme makes it easy to create your own Video Submission Platform. The coolest thing is you can run a Video site based on your interests and upload and embed videos in a quick and easy way.
Some of the Possible uses of VideoCraft Theme can be:
1. If you are a Sports Fan, You can create a website where you can upload your favorite Videos and create a Video Site around it. The great thing is that VideoCraft Theme enables you to form a Video Community around your interest.
2. You can create a full blown Video Site for Entrepreneurs where you can add useful videos to the site for the ones who want to build their startup.
3. You can scout for some great educational videos on specific Niche at Youtube, Vimeo or upload your own videos and organize them in a proper way to create a great video site to train people on a specific topic.
4. You might have a Youtube Channel, with VideoCraft you can build your own Video Channel website. You can now either link directly to the specific videos from Youtube, Vimeo, Dailymotion, MetaCafe or upload the videos altogether to create your own Channel at your own website.
There are tons of ways, you can use the VideoCraft Theme for your own purpose and imagination is the limit.
You can monetize the VideoCraft Theme through builtin Ad Module which supports any kind of GoogleAds or Ads from other sources. The Ads are placed at most relevant place to get users attention to get you the Ad Click advantage and to enable you to generate more money.
VideoCraft Theme is a powerful theme that will enable you to create your own video site in minutes. The Theme comes with Premium Community Support with it.
Below are the key features of VideoCraft Theme
Multi-User Registration Module
Allows Video Uploading and Video Embedding
Responsive to all kind of Mobile & Tablet devices
Upload your Own Videos
Supports all Major Video Formats like MP4 (mp4, m4v, f4v) & FLV
Supports all Major Audio Formats like MP3, AAC (aac, m4a, f4a), Vorbis (.ogg, .oga)
Embed Videos through URL from Youtube, Vimeo, DailyMotion, MetaCafe
Custom Widgets in Sidebar and Footer so you can place Ads, Images, Videos or any other Texts you like to have.
Black & White Color Skin
Related, Popular and Recent Tabs
Multiple Page Templates (Blog Page, Contact Page)
Built-in Advertisement Module