WordPress 3.5 compatible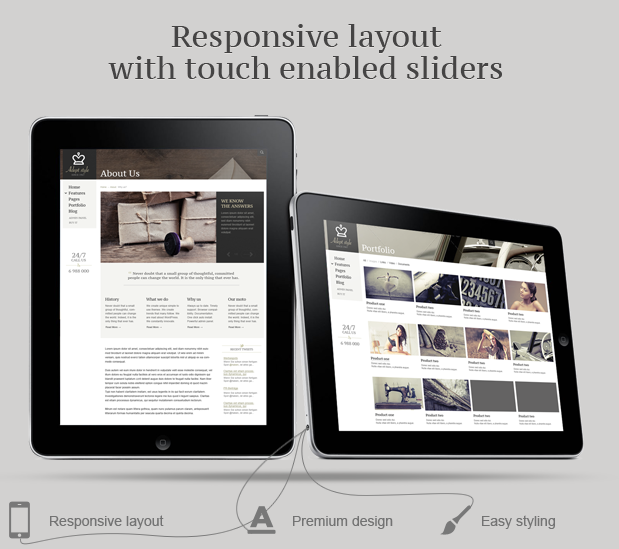 The VamTam team salutes you!
Adept Style is a powerful responsive business corporate portfolio theme fully compatible with WordPress 3.4. It is suitable for users with zero programming skills as well as advanced developers. Adept Style is the perfect match for your business with predefined styles, theme integrated shortcodes and widgets, translated into 6 languages and awesome 5 custom sliders.
Key features include:
The theme is translated into English, French, German, Italian, Portuguese, Russian and Spanish.
Responsive layout with touch enabled sliders.
Dedicated mobile design, looks perfect on your iPhone and iPad.
Create forms easily with Contact Form 7.
Help Desk with one on one email and ticket support and dedicated support staff ready to assist you .
5 responsive sliders with touch swipe support .
Exceptional page-load performance straight out of the box.
Re-sizable full screen portfolio with categories and touch swipe support.
Ajax portfolio.
Hardware-acceleration on sliders and javascript.
20 + video tutorials for beginners .
Simple and easy to use.
Testimonials
Denis St-Amour
 You guys really know customer service.
Thanks for making my life easy!! And a huge thanks to Mario!
Richard Pearson
 Vamtam have gone way beyond the normal levels of support and are quick to address any questions I have had in a patient and very friendly manner.
I am not a WordPress expert and after just 1 hour of editing and uploading my site is already looking something like I hoped it would.

I wish these top notch guys all the best with everything they produce and hope that that gets the spoils they deserve from Progressio and any future themes they produce.
Jody LaRue
Thanks for your help. I'll be keeping an eye out for future themes by you.
Csomortáni Botond
Thanks for you great support!  Keep up the good job!
Amy Hannay
Thanks so much for the support and again… loving the theme!
Kristy Crabtree
You guys ROCK! Thank you so much.
20 + "How to" Video Tutorials available here!
Complete list of features
THE VAMTAM GUARANTEE
NEXT-GENERATION FEATURES
HTML5 and CSS3.
Responsive Layout (320px to 1100px).
5 Responsive Sliders.
Responsive full width portfolio with categories and swipe support.
Filtered portfolio with cool CSS3 animations.
Ajax portfolio with video support.
Hardware-acceleration on sliders and all javascript.
Touch enabled sliders with swiping.
Gracefully degrades in older browsers.
TOP NOTCH CUSTOMER SUPPORT
Video tutorials for beginners.
If you ever have a problem, we have a dedicated support staff ready to assist you.
There are little helpers everywhere in the interface, that let you retrieve quick information about the particular fields you are currently viewing.
ONE CLICK AUTO INSTALL
Sample data and configuration is available for customers to try and see local demo of the theme. Full demo content including widgets and sample images retrievable in seconds right after you activate the theme in your admin panel!
POWERFUL ADMIN PANEL
Drag & drop layout editor.
Drag & drop slider management.
Shortcode generator.
Tons of shortcodes with tiny MCE visual integration!
And more!
ENDLESS LAYOUT POSSIBILITIES

Per page and per post option panels.
Global archive templates.
Any page can be home page. Set-up your own home page as you wish (you can use our home demos too!).
Flexible 6 sidebars in body and in footer.
Flexible left, right or both sidebars on inner pages and posts.
Unlimited Dynamic Sidebars.
Unique widget areas for posts/pages.
UNLIMITED STYLES
Theme skin switcher with 4 predefined skins.
200+ Shortcodes presenting different layout, media and business opportunities for your website installation. All our themes include Custom Shortcodes that allow you to easily add buttons, boxes, social buttons, columns and more to your posts, pages and widgets.
60 premium icons ($35 value, yours free!)
Set a different background image for each page.
Set a different background color for each page.
55 + color pickers to style every element.
The theme will let you customize the style and typography of every element in the design.
Packed with variety of options, it allows you to make your website look exactly like you want!
5 RESPONSIVE SLIDERS
5 custom made jQuery sliders!
Drag & drop slider management.
The sliders are fully responsive with swipe support for touch devices and mobile phones and integrate beautifully with the layout, they offer hardware-accelerated CSS3 transitions with standard javascript fallback for the few unsupported browsers/devices.
PORTFOLIO
Re-sizable full screen portfolio with categories and touch swipe support.
Ajax portfolio.
SIDEBAR MANAGER
Custom sidebars for posts and pages.
Sidebar Manager allows you to replace all widgetized sidebars in our themes with unique custom sidebar.
11 CUSTOM WIDGETS
Vamtam Post Formats Widget
Vamtam Ads Widget
Vamtam Video Widget
Vamtam Popular Posts Widget
Vamtam Contact Widget
Vamtam Twitter Widget
Vamtam Sub Navigation
Vamtam Flickr Widget
Vamtam Social Icons Widget
Vamtam Google Map Widget
Vamtam Author Widget
TECH-SAVVY
Vamtam Rock Solid Theme Framework.
Lighting fast.Exceptional page-load performance straight out of the box.Grade-A score at Google Page Speed (91 out of 100)! Nothing's required but a standard PHP web hosting and CDN.
Valid HTML5 and CSS 3 tableless design. Designed primarily with CSS, minimal graphics means minimal load-time.
Consistent code structure.
No Timb Tumb.Native WordPress Thumbnails support.
Meta programming in setting pages.
Very well commented and clean code.
Pixel perfect design.
Custom post type support for Portfolios and Slides.
Unobtrusive jQuery powered effects.
COMPLETE LOCALISATION
Full Localization Support (contains .po/.mo files) All of our themes have been localized for easy translation. Included with each theme are sets of .mo and .po files that can be used to translate the theme, which means you won't have to spend hours searching through PHP files for English words.
WPML support
Translated into English, French, German, Italian, Portuguese, Russian and Spanish.
FONT REPLACEMENT
You can change any text on your site to the font of your preference and you can preview fonts in the admin panel.
Google fonts support – 400+ fonts.
Font Face.