Magazine is a 3-column theme designed to be used with the Themify Builder. Using the intuitive drag and drop capability of the Builder, the Magazine theme allows you to build any kind of layouts at ease. You can build complex grid layouts like Guardian, CNN, MSN, and BBC in minutes. It is a responsive & retina ready theme packed with many features: 42 pre-built layout options, mobile slide navigation, mega menus, widgetized areas for banner ads, Awesome icon font, breaking news ticker, social share buttons, related posts, footer menu, social links, and more. If you are looking for a flexible & powerful theme for editorial/news sites with mobile & retina support, Magazine is the best choice!
Responsive & Retina Ready
The design is completely responsive & retina ready. This means not only will it work on all desktop and mobile devices, but all graphic elements remain sharp on retina screen such as the iPhone and Android.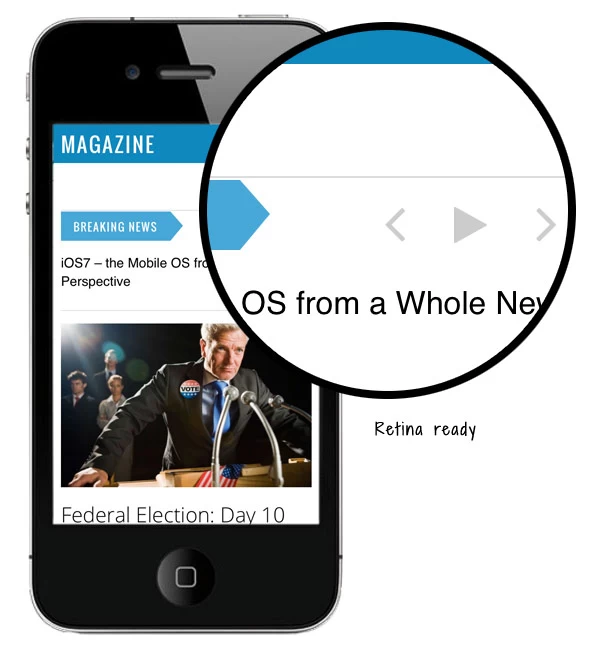 Mobile Slide Menu
One of the challenges of designing editorial sites is displaying the massive menu links on mobile. So Magazine offers sliding menu on mobile as seen on the Facebook mobile app.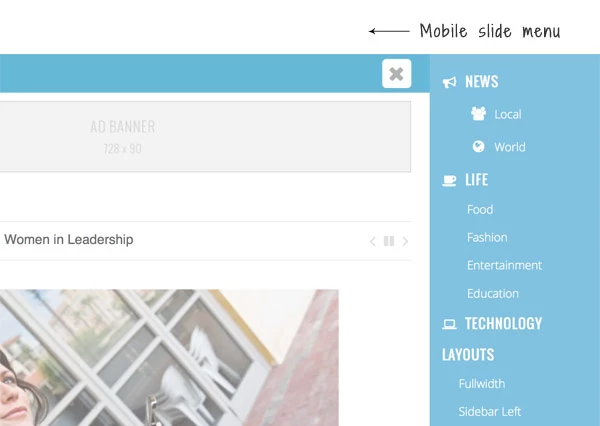 Mega Menus
As inspired by Mashable site, when you hover on the category menu the latest 4 posts of the highlighted category will be displayed. The mega dropdowns can also display multiple columns of static links.

6 Sidebar Options + 7 Post Layouts
If you are too lazy to build your own custom layouts with the Builder, Magazine has many pre-built layouts available. With 6 sidebar options plus 7 different post layouts, that is a total of 42 different layout configurations!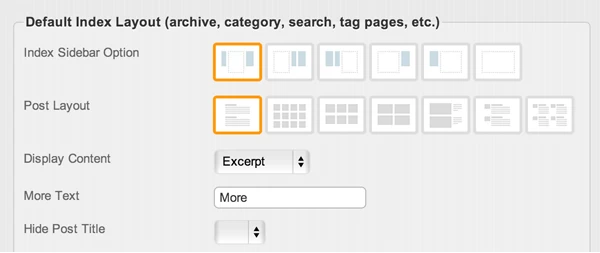 Ads Ads Ads!
Advertisement is very crucial for editorial/magazine sites, thus the Magazine theme has been designed to emphasize advertisements. The layout is designed to put the advertisement areas in prominent spots where it fits perfectly with the standard banners. The ads are optional which can be inserted via Text widget. It can be static banner ad, text link, Google Adsense or any ad code.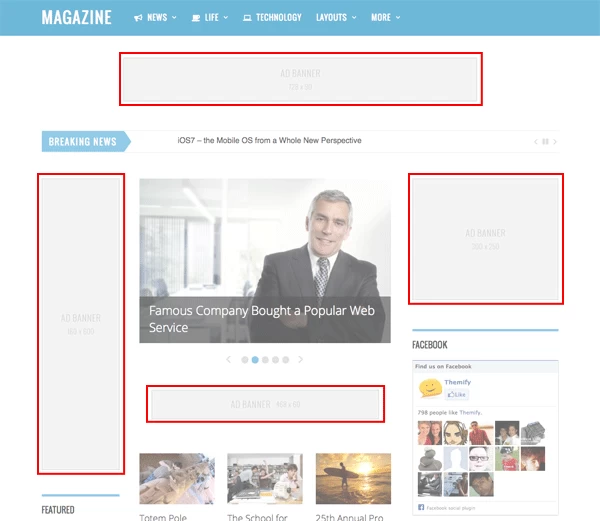 Awesome Icons
Awesome icon font is incorporated in the theme. You can add any icon to the menu links by specifying the icon name. Over 360+ icons are available!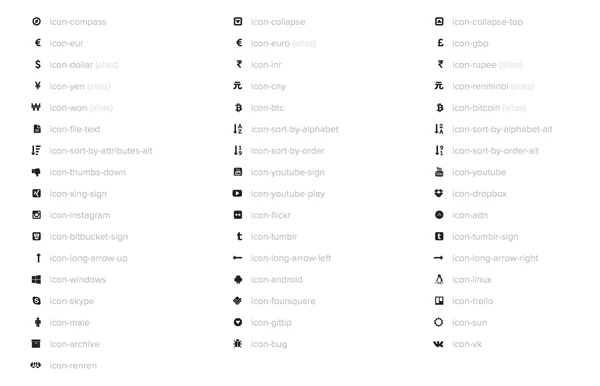 Breaking News Ticker
Magazine offers a breaking news ticker in the header area as seen on many editorial sites like the Guardian site. The breaking news can be customized via the theme option panel.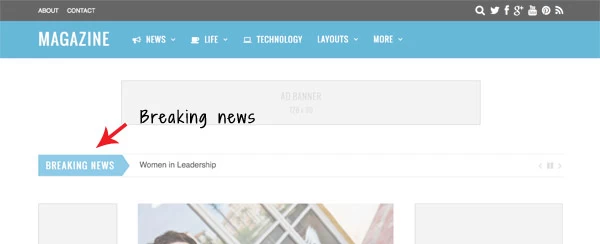 Related Posts
Dynamic related posts are displayed at the bottom of the single post page. You can display an optional rectangle banner ad next to the related posts.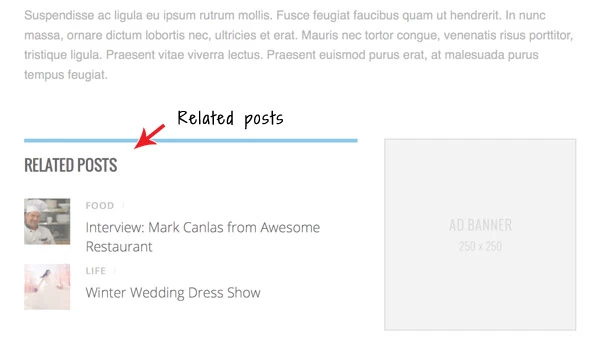 Social Sharing
Drive more traffic with social sharing. With Magazine theme, readers can share the posts via Twitter, Facebook and Google Plus.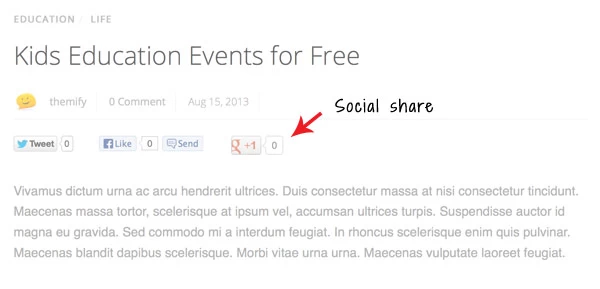 Footer Menu & Widgets
Footer area can be customized to display up to 4 widgetized columns along with social links, footer menu and footer text with an animated back-to-top button.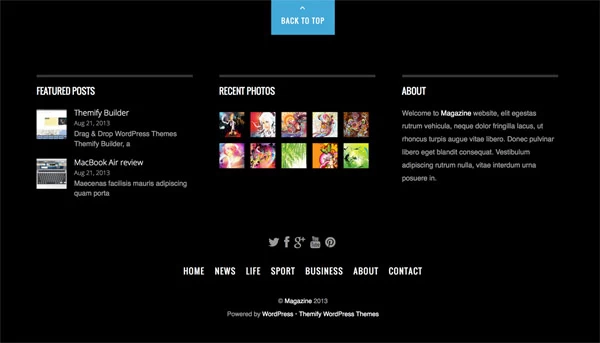 6 Color Skins
Six different theme skins is packed with this theme. To preview the skins, visit ourdemo and select the Skin dropdown menu from the top frame.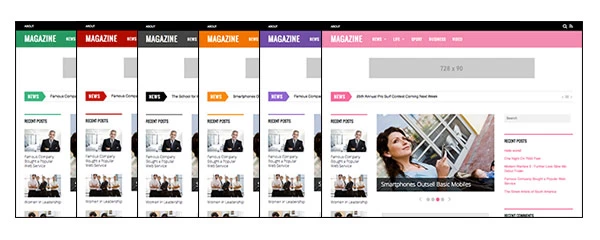 Styling Panel
Also, the appearance (eg. font, color, background, etc.) of the theme can be customized via the Styling panel.