Use this responsive WordPress video theme to share videos from YouTube, Vimeo or dozens of other sites.
What is Video?
Based on one of the best front-end frameworks available today – Foundation, Video is a lightweight WordPress theme focused on making your videos look awesome. With pingdom perfection grades over 90%, this WordPress video theme is designed for speed. Expect fast loading times no matter what you throw at it.
Display all kinds of videos



From YouTube or Vimeo

Using a video from sources such as YouTube is as simple as pasting the embed code into the theme. Alternatively, you can use oEmbed to display a video with nothing more than a URL. For a full list of supported sites click here.




Upload your own

To showcase a video of your own simply upload it while creating the video post – the theme takes care of the rest. You can also upload and display them inside any page or post. To display it inside a widget, just use the video shortcode.
Create and manage a Blog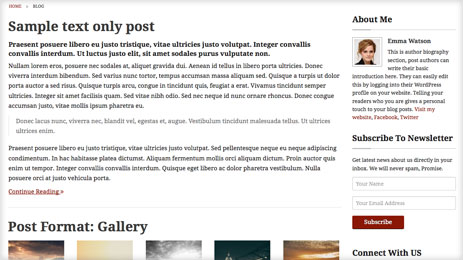 Our WordPress Video theme is just as capable at displaying your blog posts as it is showcasing videos.
Create multiple Blog categories and sub-categories
Add images and videos to blog posts. Videos can either be uploaded or embedded from sites like YouTube or Vimeo.
Engage your audience via the comments
Advanced category pages
Creating a well-organized video directory often involves setting up categories and sub-categories. Video theme allows you to create as many parent and child categories as you need. Each of those categories will feature a (custom) category description, Grid / List view modifiers and three tabs for filtering content. The tabs include Latest (most recently added videos), Most Views (most popular videos first) and Most Comments (most engaging videos first).
Change the look of your site in real-time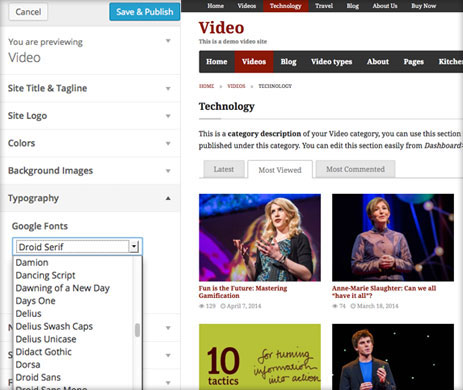 Using the WordPress real-time customizer (available from Appearance ? Customize) you'll have the ability to completely alter the look and feel of your website.
Changing colors is as simple as using a color picker. The fact everything is in real-time will allow you to quickly see what works and what doesn't.
Other customization options include:
Ability to set a custom logo and favicon
Choose a header and body background image
Select one of many available Google fonts
Set a custom font size
A wide variety of widgets
Latest Posts/Videos

Display your videos in either grid or list view. This is the widget that displays most of the homepage videos you see inside our demo.

All Categories First Video

Show the thumbnail of the latest video from selected categories. Two view types are available: List and Grid.

Tabbed Widget

Display related and popular videos or posts in a series of tabs. Choose the number of entries to be shown in each tab.

Related Posts

Show videos or posts from the same category as the one being viewed. Works best on video or post detail pages.

Advertisement Widget

Add a static image or insert Google AdSense code. Use HTML and inline CSS to style the content further.

Newsletter

Allow visitors to subscribe to your email newsletter. Four services to choose from: MailChimp, Feedburner, Aweber, FeedBlitz

Popular Posts

Two available metrics for determining popular posts: comments and views. Widget works with both videos and regular WordPress posts.

Video Slider

Creates a slider with a short description and a fully functional video. Choose which video categories to display in the slider and set the number of slides to be shown.

Social Media

Provide a link to each of your social media profiles. Add as many links as you need and upload a custom icon for each of the profiles.